Ready-made
treasure hunts
for kids
Organize and host unforgettable parties with our printable treasure hunts!
Our innovative concept was created by parents for parents of children aged between 6 to 12.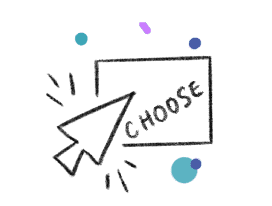 Choose
Choose the theme of the treasure hunt according to your child's age group and interest.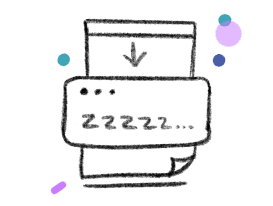 Print
Read the first few pages of our instruction guide before printing. All you need to know is explained very simply.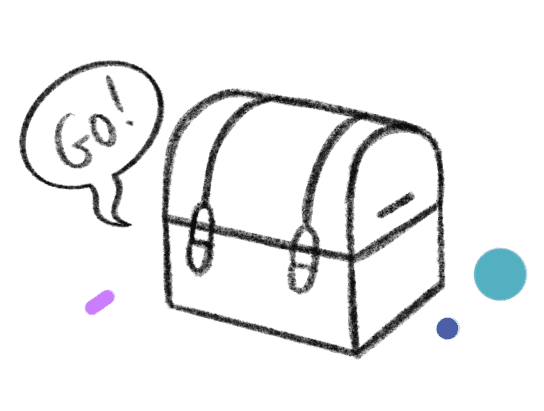 Play
And you're off for 1.5 hours of game during which the children will learn lots of fun facts and have a terrific time!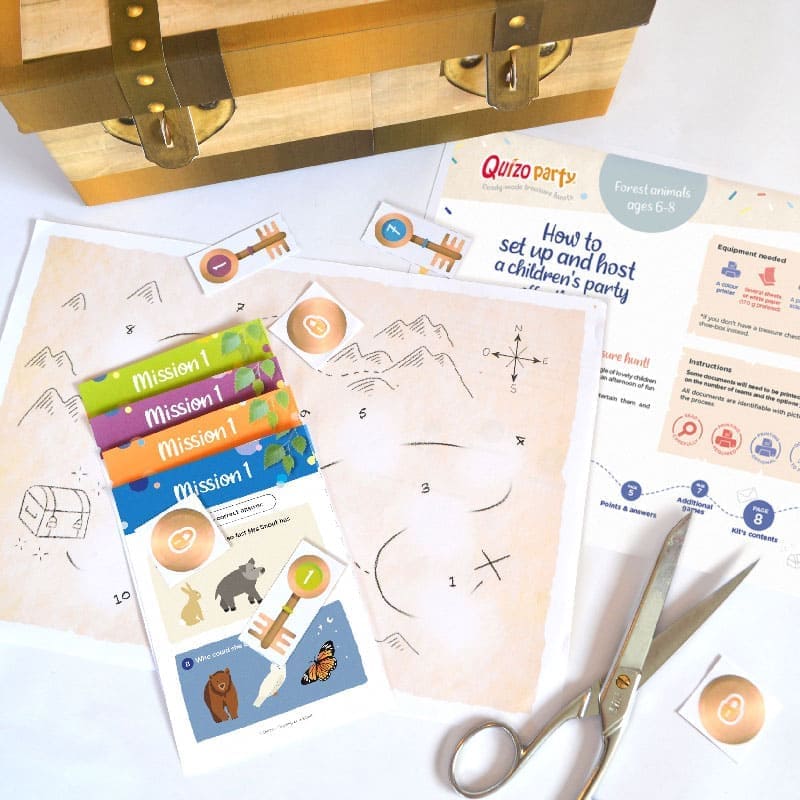 About Quizoparty®
Quizoparty® is the English version of Quizotrésor®, an innovative printable kit, created in 2013 by a French mother, to entertain a group of children aged 6 to 12 during a birthday party.
An all-inclusive kit
1.5h treasure hunt + additional games +invitation cards + treasure map + certificate + DIY treasure chest.
Varied themes
Interesting for boys and girls.
Outdoors or indoors
An adventure to experience in all settings and in all seasons.
Testimonial

Pirates themed treasure hunt
" A ready-made party game ideal for those of us who lack ideas or time. The children loved it! "

Dance themed treasure hunt
" My daughter and her friends had a good time. I had hidden the keys inside as well as outside, which kept them busy for a good hour and a half! Very cool game! "

Spies themed treasure hunt
" Fantastic treasure hunt! The kit is easy to prepare. The children were kept busy for more than an hour and twenty minutes. And the bonus? The playlists! "

Magic themed treasure hunt
" The children loved this treasure hunt! And for us, setting up was really easy. It doesn't take much time at all, which is a great bonus. This game kept the children on their toes the whole time. I highly recommend it! "

Spies themed treasure hunt
" All the equipment was great, complete, and easy to set up. Making the treasure chest was easy thanks to the tutorial. My son was very happy to be able to build it himself! The children and us, organizers, had a great time. Everybody had lots of fun and the children always looked forward to the next missions! Thank you Quizo for creating such beautiful moments between friends and family. "

Pirates themed treasure hunt
" I used a printable kit. Everything that is provided saves valuable time. And everything is designed to make the party enjoyable and fun. The missions are easily carried out. This kit gives you serious PIRATES vibes. "

Animals themed treasure hunt
" THANK YOU for such a great time. Quizo saved our daughter's birthday party, which had been compromised by a cold snap. The children were greatly involved in the game, it was a real success! The instructions for the printable kit are clear and simple. I would recommend starting the preparations the day before though as it takes time to print, cut, choose the hiding places, and so on… "

Sports themed treasure hunt
" Super easy to use. The children, who were 11 years old, loved it and were kept busy for an hour and a half! Thank you so much! "

,
You are about to love our printable treasure hunts!
With the Quizoparty® kits, organizing a treasure hunt for a child's party has never been so simple! It only takes a few minutes to prepare this creative activity for children aged 6 – 12.
Our ready-made treasure hunts, complete with accessories and lots of extras, will allow you to organize an unforgettable party in all seasons or circumstances!
We know what it is like for parents to lack time or ideas therefore we invite you to relax and become a fun party host with our guidance. No special talent or effort needed, just follow our instructions. Created by parents for parents, our treasure hunts have been designed to simplify preparations as much as possible so that you can focus on what is truly special: a moment of fun shared with your child and his/her friends.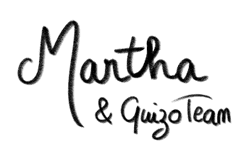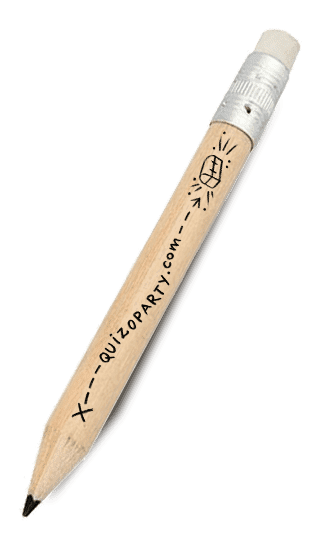 A part quiz, part treasure hunt game
that the children love!
Looking for new innovative ideas for a child's birthday party or a simple party with his/her friends? Look no further! Welcome to Quizoparty!
Created by French mum Martha in 2013 for her own children, this part quiz, part treasure hunt game is innovative, fun, and somewhat educational. Since its launch, this game has thrilled tens of thousands of French-speaking parents and is now available in English!
If you dream of being awarded the "Best mum organizer of birthday parties" (title also available for dads), then be the first in your community to organize our treasure hunt! You won't regret it!